Latest Images
(For earlier images see links on the Home Page>>>sorted by year>>month)
and NOW available for purchase only through this website: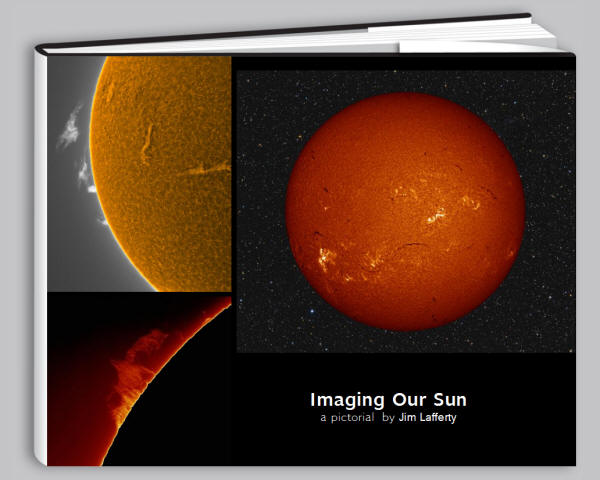 Imaging Our Sun is a full color pictorial of Hydrogen Alpha and White Light images of our closest star. All of the images were captured by the author over the last two years as the sun approaches "solar maximum" in 2013. Also included in the book is a look at both the imaging and the processing techniques the author uses to produce solar images. The book is available in either a 9 x 11 "landscape" format or a 11.5 x 15 "coffee table" size. Both are hardcover.
The print quality of the images surpasses anything you've seen in any astronomy book to date
August 5, 2014
Luntanado 100/90 and DMK 41 Camera


March 8, 2014
These are the test images done with Astro-Hutech's new Solar Guider called
"Hinode"
Lunt 100, DMK 41 USB 2 Camera, and Losmandy G-11 Mount. Polar Alignment was roughly done
with an iphone compass app, to simulate field setup conditions. The Guider worked well. You can see some images of the Guider
on my equipment page.
February 23, 2014
Lunt 100 with DSII module and PGR Chameleon camera
DECEMBER 15, 2013
Lunt 100T/Ha, Coronado 90, and DMK 41 camera
November 24, 2013
Lunt 100/DS Pt Grey Chameleon and TIS DMK 41
November 17, 2013
Lunt 100 Lunt 100DS, Luntanado, ES127ED, ES80 ED, and Pt Grey Chameleon camera
(Poor seeing)
October 30, 2013
Coronado 90/BF30 DMK 41 camera and ASI 120mm camera
DMK41
ZWO ASI 120mm camera
October 27, 2013
Lunt 100/DSII
ZWO ASI 120mm camera
DMK 41 camera
October 23, 2013
First Light for the Skyris 445M CCD camera
A collaboration between Imaging Source and Celestron. The only thing I don't like so far is that
the gamma feature on this camera is disabled. Not sure why but its absence interferes with trying to get
good prominence shot settings on the capture software. Seeing this day was poor, 2/5, and I had to image through some
haze left over from a pretty foggy morning.
Lunt 100/DSII
October 19, 2013
Lunt 100/Lunt 100/DSII and ZWO ASI 120MM camera
October 12, 2013
Lunt 100, Lunt 100 DS, Luntanado 100, Explore Scientific ES127ED Triplet,
with ZWO ASI 120MM and TIS DMK 41 cameras
September 29, 2013
Lunt 100/DS, Coronado 90 and DMK 41 camera
September 18, 2013
Lunt 100 and DMK 41
.
September 14, 2013
Coronado 90 and ZWO ASI120mm CMOS camera
Elimination of Newton's Rings Test
I recently purchased a T2 tilt adjuster to try to eliminate the very severe Newton's Rings that this camera produces, which seems to be pretty universal with solar Ha images using this ZWO CMOS sensor. As you can see below, it did the trick. (You can see an image from this date 3 pics below without the adaptor in place). The ZWO camera, which seems to be a favorite with planetary images has 1280 x 960 resolution with very small pixels (3.75 microns) and a very inexpensive CMOS sensor ($328.00) that is capable of 16 bit imaging with surprisingly low noise. FPS is listed at 35 at full resolution ( I was getting 30 fps with Firecapture). Certainly this is a nice lower cost alternative for a moderately sized sensor. Should be great for lunar imaging as well. I have yet to try it on my Lunt 100 but the results so far are very encouraging.
Newtons Rings without the adaptor is below
September 12, 2013
Lunt 100, Lunt 100/DS and PGR Grasshopper 3 Camera
September 1, 2013
Lunt 100 DS with testing of a ZWO ASI 120mm camera
With the Grasshopper 3 in the shop for repair I picked up this little camera to play with in the meantime---I was curious about it after reading Damien Peach's review in the UK's "Astronomy Now" magazine. Evidently this camera is becoming fairly popular with the planetary imagers. Its relatively "cheap" at abt $328.00 US. I tried some higher res shots but ran into some nasty Newtons Rings that I didnt feel like fiddlying with today.
This is a USB 2 camera with a CMOS chip. It connects and operates with either Sharpcap or Firecapture. It can capture in either 8 bit avi's or 16 bit ser files (when using Firecapture 2.3 beta). It has fairly small pixels (3.75 microns) with a pixel array of 1280 x 960. It captures 35 FPS in 8bit or 15 FPS in 16 bit at full resolution. Noise seems fairly low---The images below were taken with the Lunt 100 DS. Best 251 frames out of 1525 total. They are both from a 16 bit ser file. A .5 Antares reducer was used to get the full disk in one capture.
DMK 41 and Lunt 100 DS
August 25, 2013
Lunt 100 DS and DMK 41 camera
Lunt 100T/Ha/DSII and Grasshopper 3 camera
The image below was featured in the December 2013 issue of Astronomy magazine
August 3, 2013
Lunt 100 and Coronado 90 with a Pt. Grey Grasshopper 3 camera
July 28, 2013
The first images presented are with the Lunt 100T/Ha Pressure Tuned Scope in 3 different filter configurations.
All were captured on this date with the DMK 41 camera on a Takahashi NJP mount. There is a clear difference between each of the Single Stack, Double Stack, and Triple Stack images. Each is a stack of the best 201 out of 1525 frames, stacked in Autostakkert 2 and post processed in Photoshop CS2. A .5x Antares focal reducer was used to get the full disk onto the camera's chip.
For those that might I wondered, the grey area around the disks is intentional
and not an artifact of any of the stacking--I seldom like pure black backgrounds
around my monochrome disks so I lighten the background a bit.--Just a personal
preference of mine.

What I am finding is that when you go from single to double (then again to
triple) stack, the finer details on the surface are replaced by the increased
contrast of the larger features (the white areas of the active regions,
filarments, etc). When you look at the SS you can see a ton of minute detail,
when you look at the triple stack you see that tremendous band of active regions
that seems to encircle the surface below the solar equator--something you dont
detect in SS mode (and just barely get a taste of in DS mode.

I suspect the loss of spot detail is a result of seeing more and more of the
chromosphere and less of whats happening down into the photosphere?

Its quite interesting and points to the reality of all this different filtering
we use---not every feature/detail will be apparent with every filter, and some
will be more apparent.

Im still of the opinion that multiple stacks give their "best" visually. Uneven
illumination is much more detectable by the camera than the human eye, and that
illumination is always the challenge when imaging with multiple filters. With
two pressure tuners and sometimes a tilt tuned device to adjust, as well as
placement of the disk on the chip, there are a ton of variables and Im still
working them out :)

I have rotated the DSII and found no real change in the image other than the
glow that is off to one side of the visual image rotates around with it.

The detail loss in part of the DSII image is likely due to my tuning. As I
mentioned above, finicking with 2 pressure tuners is still something Im getting
used to. The image does project on band withe the DSII across the imaging plane
as I found when doing the proms of a full disk.


First the Lunt 100 in single etalon mode:
Next is the Lunt 100 with the Lunt DSII Double stacking module attached:
and finally the image which is Triple Stacked with the DSII module and a Coronado 90 external etalon:
and for some fun.......
"God's Canvas"
Lunt DSII/C90 Triple Stacked sun with stellar background in monochrome
Next are presented images taken with the Grasshopper 3 USB 3 camera and the Lunt 100 in both single stack and double stack mode with the DSII module. No focal reducer is needed to get the full disk onto the Grasshopper 3's chip.
Lunt 100/Grasshopper 3 camera in single stack mode:
Here is the Lunt 100 with the DSII module with the Grasshopper 3 camera in DS mode:
July 24, 2013
Lunt 100/DSII triple-stacked with Coronado 90 filter and DMK 41 camera
Lunt 100/DSII and DMK 41 camera
Lunt 100 single etalon mode and DMK 41 camera
July 17, 2013
On this date I tested a newly acquired Lunt DSII Double stacking Module for the Lunt 100.
You can see the test images here>>>LUNT DSII for Lunt 100 PT Scope
Lunt 100/DSII and Grasshopper 3 Camera
July 10, 2013
From Bryce Canyon National Park (8100 feet elevation)
Lunt 100 and Grasshopper 3 camera on Losmandy G-11 mount
July 9, 2013
From Bryce Canyon National Park (elevation 8100 feet)
Lunt 100 and Grasshopper 3 camera on Losmandy G-11 mount
July 8, 2013
From Bryce Canyon National Park (elevation 8100 feet)
Lunt 100 and Grasshopper 3 camera on Losmandy G-11 mount
June 26, 2013
Coronado 90 and Pt Grey Grasshopper 3 USB 3 camera on NJP mount
June 19, 2013
Lunt 100 on NJP mount with a Pt Grey Grasshopper 3 camera
May 22, 2013
Second run with the new Grasshopper 3 and Lunt 100. This morning there was an M5 class flare on the sun's western limb originating from active region 11745. I captured the flare's aftermath on the sun's limb below.
May 19, 2013
Lunt 100 and Coronado 90 as well as "First Light" for the Point Grey Grasshopper 3 USB3 camera
No focal reducer was needed to get the full disk on the chip with a Lunt 100mm Ha scope.
Seeing was "fair" and this was the first time using Firecapture 2.2 software so I need some time to refine my capture settings, but
overall a successful test. Also, the Ha filter was not tuned optimally for this test, which was to determine if th fd would fit and that the camera is operating properly.
May 15, 2013
May 2, 2013
Lunt 100, Coronado 90, and ES127 APO with DMK 41 camera
All images are the property of Jim Lafferty and may not be reproduced or used without permission