Latest Images
(For earlier images see links on the Home Page>>>sorted by year>>month)
and NOW available for purchase only through this website: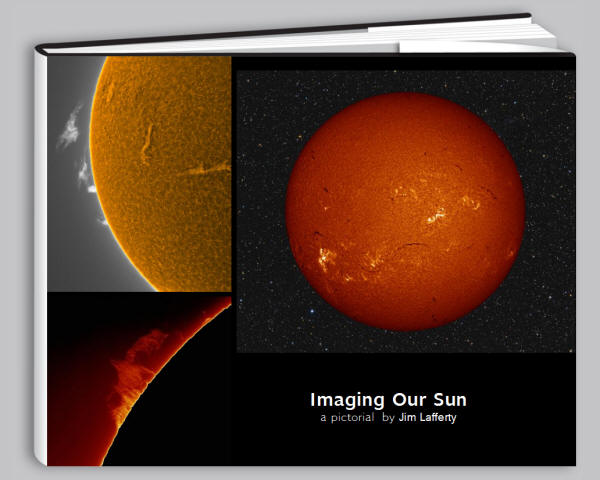 Imaging Our Sun is a full color pictorial of Hydrogen Alpha and White Light images of our closest star. All of the images were captured by the author over the last two years as the sun approaches "solar maximum" in 2013. Also included in the book is a look at both the imaging and the processing techniques the author uses to produce solar images. The book is available in either a 9 x 11 "landscape" format or a 11.5 x 15 "coffee table" size. Both are hardcover.
The print quality of the images surpasses anything you've seen in any astronomy book to date
May 19, 2013
Lunt 100 and Coronado 90 as well as "First Light" for the Point Grey Grasshopper 3 USB3 camera
No focal reducer was needed to get the full disk on the chip with a Lunt 100mm Ha scope.
Seeing was "fair" and this was the first time using Firecapture 2.2 software so I need some time to refine my capture settings, but
overall a successful test.
May 15, 2013
May 2, 2013
Lunt 100, Coronado 90, and ES127 APO with DMK 41 camera
March 14, 2013
Explore Scientific 80mm and 127mm APO's, Coronado 90, DMK 41 camera
March 10, 2013
Lunt 100, Luntanado 100, Coronado 90, and DMK 41 camera
Luntanado 100 Double stacked .5A
Lunt 100 Single Stack .8A
February 17, 2013
Lunt 100, Luntanado 100, Coronado 90, and DMK 41
Lunt 100, Luntanado 100, Coronado 90 and DMK 41 camera
January 20, 2013
This appears to be a balloon with a scientific payload in transit near AR 11660
Imaged with Lunt 100 and TV Powermate 2.5x-DMK 41 camera
Approx time 17:58:30 UT---The object took 7 seconds to clear my fov
YouTube Video>>> http://youtu.be/32l_MU-Qwi8
January 13, 2013
Lunt 100, Luntanado 100, Coronado 90, ES 127 APO, ES 80 APO and DMK 41 camera
December 9, 2012
Luntanado 100 and DMK 41 camera
October 24, 2012
Lunt 100 and DMK 41 camera
AR 11596
September 26, 2012
Luntnado 100 at .5A with DMK 41 camera
All images are the property of Jim Lafferty and may not be reproduced or used without permission