Equipment
Contact me at shogun000@verizon.net
and NOW available for purchase only through this website: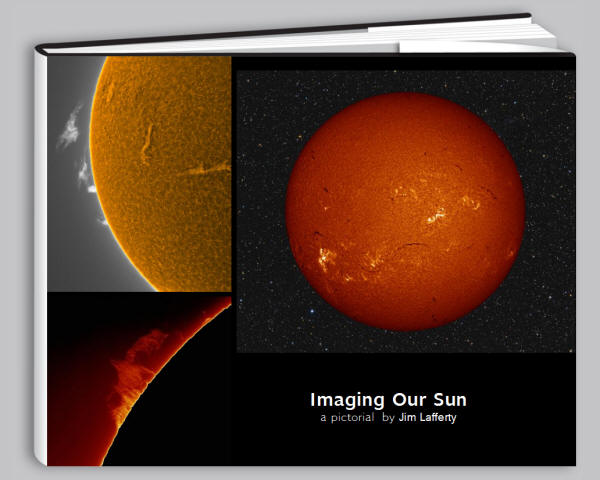 Imaging Our Sun is a full color pictorial of Hydrogen Alpha and White Light images of our closest star. All of the images were captured by the author over the last two years as the sun approaches "solar maximum" in 2013. Also included in the book is a look at both the imaging and the processing techniques the author uses to produce solar images. The book is available in either a 9 x 11 "landscape" format or a 11.5 x 15 "coffee table" size. Both are hardcover.
The print quality of the images surpasses anything you've seen in any astronomy book to date
2013 Speaking and Presentation Schedule-Join Me!
Current Equipment
Lunt LS100Tha/3400 Hydrogen Alpha Telescope with Feather Touch Focuser
Lunt DSII Internal Double Stacking Module for Lunt 100
Coronado 90/BF30 Doublestacked Ha Telescope with Moonlite Focuser
Coronado 90mm external etalon to Double Stack the Lunt 100, creating the Ramsden "Luntanado"
Explore Scientific 127mm Triplet APO
Explore Scientific 80mm Triplet APO
Takahashi FS60CSV with CQ 1.7x
Denkmeier BinoTron-27 Binoviewer Super System
Lunt Solar Wedge
Takahashi NJP Temma 2 Mount on Takahashi Pier
Losmandy G-11 on HD tripod
Losmandy GM-8 on HD Tripod
Explore Scientific Twilight II Alt-Az Dual head Mount
Celestron GT Mount
SkyQuest XX12 IntelliScope Truss-Tube Dobsonian
SKYRIS 445M USB 3 CCD Camera
Imaging Source DMK 41 CCD Camera
Point Grey Chamaeleon CCD camera
Canon 6D (unmodded)
Canon 60Da DSLR
ZWO ASI 120mm CMOS camera
KenKo SkyMemo on Manfrotto HD Carbon Fiber Tripod and Manfrotto 405 geared head
Canon BG-E9 Battery Grip
Rokinon HD8M-C 8mm F3.5 HD "Fisheye Lens"
Rokinon 14mm F/2.8 Aspherical SWA lens
Carl Zeiss 21mm Distagon T2.8 ZE lens
Rokinon 35mm F/1.4 lens
Canon EF 50mm F1.4 USM lens
Canon EF 100mm F2.0 USM lens
Canon EF 200mm f/2.8L II USM lens
Canon EF 300mm f/4L USM non-IS lens
IOptron SkyTracker
SKYSHED XL-5 POD http://www.skyshedpod.com/main.html
Maxim 5.0, Photoshop CS2-3, CCDStack, The Sky 6, Registax, Avistack
Equipment I have owned at one time or another
Takahashi FSQ106N
Takahashi TOA130
Takahashi EM200 Temma 2 Mount
Meade 10" LX200GPS
Stellarvue SV70
AstroTech AT66
Meade 8" LX3
Meade 8" 2080
FLI DF-2 Microfocuser
SBIG STL11000
SBIG ST10XME
SBIG ST2000XM
SBIG ST2000 color camera
SBIG CFW9 Filter wheel
SBIG CFW10 Filter wheel
Lunt LS100THa/BF3400 Hydrogen Alpha Telescope
"Luntanado" Lunt 100THa and Coronado SM90 external filter for Double Stacking
on Takahashi NJP Mount/Pier
Lunt 100 with Lunt DSII Double Stacking Module installed
Lunt 100THa on Losmandy GM-8 Mount
for the field
Coronado SolarMax 90mm with Moonlite Focuser and BF-30 Blocking Filter
on Takahashi NJP Mount/Pier
SM90 Double Stacked 90mm etalons with Precise Parts adaptor
Moonlite Focuser Upgrade/side by side with the Coronado Helical Focuser
Here is the Moonlite Focuser attached with the BF30 behind it
Here is the adaptor made by Precise Parts to connect the two SM90 etalons
Here is the adaptor threaded onto the first SM90 etalon
Explore Scientific ES 127 APO with Lunt Wedge for White Light Solar Viewing and Imaging
on Takahashi NJP Mount/Pier
Lunt Solar Wedge and Baader Hyperion Zoom
Explore Scientific ES80 ED Triplet APO on NJP mount with Lunt solar wedge
Explore Scientific Twilight II Alt-Az mount with Lunt 100THa and ES 80 Triplet APO
The head of the Explore Scientific Alt-Az mount
SBIG ST2000xm mounted on Lunt 100THa/3400
Imaging Source DMK41 camera mounted on Lunt 100THa (configured for straight thru imaging of full disks wtih .5x Antares reducer and standard nosepiece).
Using 1 2" long extension to come to focus
Imaging Source DMK41 camera mounted on Lunt 100THa (configured for straight thru imaging of full disks wtih .5x Antares reducer and shortened nosepiece for only .67 reduction).
Using 2 extensions to come to focus, one is 50mm and the other is 35mm in length. I use the same configuration for the Coronado 90/BF30 for full disks. For higher res images using the 2.5x Powermate I require 2 50mm extensions to come to focus with both scopes.
Grasshopper 3 USB camera on Lunt 100 with 2 extensions for coming to focus with either a Teleview Powermate 2.5x or for full disk imaging.
POD's "Imaging Control"
Kenko Skymemo on a Manfrotto MT057C3 Tripod with #405 and #410 Manfrotto Gearheads
Kenko Skymemo with Takahashi FS60C and Orion Starshoot autoguider. Equipped with a Tak field flattener for F6.1,
and Stellarview red dot finder, and Canon 60Da DSLR
Skytracker on Manfrotto Tripod with Canon 60Da
on rim of Bryce Canyon, Utah
Canon 60Da with 21mm Carl Zeiss lens on G-11 Mount
Imaging at 8000 feet altitude at Bryce Canyon National Park in southern Utah
Hunting the Annular Solar Eclipse near Littlefield, Arizona on May 20, 2012
FSQ-106N/DF-2 Auto Focuser/CFW-10 Filter Wheer/ST2000xm Camera on the EM200. (In the field at Red Cloud Road, a Dark Sky Site about 40 miles east of Indio, California)
FSQ106N and EM-200 ready for imaging at Red Cloud Road
Set up for a night of imaging at my favorite dark sky site-- Cottonwood Springs Campground,
Joshua Tree National Park TOA130 and EM200 on Tak EM200 pier.
That's me at Joshua Tree with the Fsq-106N and ST2000xm on a Takahashi pier.
Out at Joshua Tree's Cottonwood Springs Campground with Robin Uffer (on the left) and his TOA130 behind him.
Telescope field at Cottonwood Springs campground--Robin Uffer's TOA130/NJP, my FSQ106N/EM200 and my Orion XX12 Dob.
My new 12" Orion Skyquest XX12 Truss Tube Dobsonian with Intelliscope
XX12 with the shroud attached